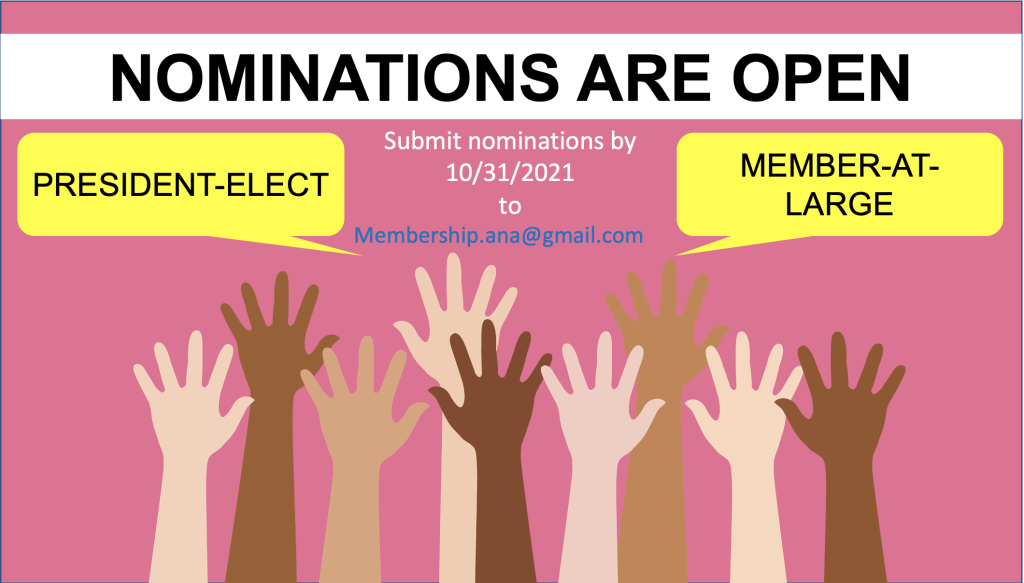 Nomination method:
Nominations should include the nominee's CV and a brief (<300 words) description of how the candidate/nominee will contribute to the mission of the ANA. Please send all completed nominations to the ANA Membership Committee (membership.ana@gmail.com) with the email subject heading "ATT: Application for President-Elect/Member-at-Large to the ANA Executive Committee". Applications should be submitted by 10/31/2021 before 5PM PST.
Learn more about the positions:
PRESIDENT-ELECT
Duration: 1 year term from 2/2022- 2/2023
Job Description:
The President-Elect is expected to take on the position and duties of the President upon completion of the current President's term in 2023, and take the position and duties of Past President upon completion of their own two-year term.
They are expected to assist with all the duties of the President and will assume all of the responsibilities of the President in their absence/unavailability (e.g., due to leave, disability, termination, or other unforeseen circumstances).
They will take the office of President in the event that the President cannot fulfill the duties of their office for the remaining term of office.
They are a voting member of the Executive Committee.
MEMBER-AT-LARGE
Duration: 2 year term from 2/2022- 2/2024
Job Description:
There will be two Member-at-Large positions within the Executive Committee with staggered start dates for their terms. We currently have one position open for the upcoming elections.
Members-at-Large will assist in the general operation of the ANA and its business and affairs with duties including, but not limited to, the coordination and execution of the activities of its various Committees (e.g. Membership, Resource, Media, Advocacy, Education). This includes monthly check-ins with the committees.
They will facilitate collaboration between committees and the Executive Committee to ensure appropriate dissemination of Association resources and communication about standardization of procedures.
They serve as liaisons to the general membership.
They are voting members of the Executive Committee.
Questions about these positions can be directed to the Membership committee at (membership.ana@gmail.com).